Premier League 2022/2023: The rise of Arsenal FC
For many soccer fans around the world, the English Premier League has been the most competitive league for various reasons. The quality of all teams involved, the commercial appeal and the unpredictability nature are what makes the Premier League so special in the eyes of fans. However, this season can potentially be the best in recent memories. How is that even possible with an already brutal and exciting league? It all comes down to one name that has surprised everyone this season: Arsenal Football Club
Historically, Arsenal is a great club with many trophies displayed in their cabinet. Most notable achievement for them has to be the 2003-2004 season where they have gone the entire season unbeaten. Legends such as Thierry Henry, Dennis Bergkamp and especially manager Arsene Wenger are the pillars of Arsenal's success and popularity around the world. Despite the huge stature and glory in the sport, Arsenal hasn't actually won a league title since that unbeaten 2004 season. As a matter of fact, they have become a little bit of a laughing stock for their constant failures in the domestic and European competitions. They have been lovingly labeled by the soccer community as  " Top 4 merchant" as they consistently finished in 4th for many seasons in the last decade. Arsenal's downfall can be attributed to poor management from the higher ups as club owners refused to invest heavily into the team, leaving them toothless when they fought with other big clubs like Manchester United, Chelsea or Manchester City.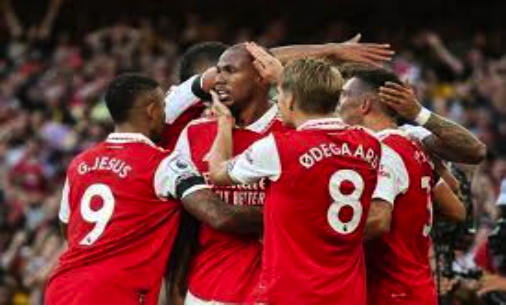 A decade of failure and misery for Arsenal fans may have turned over a new leaf as this season progresses. Arsenal are now at the top of the league over the other top teams mentioned earlier. The majority of neutral fans have predicted that Arsenal would have another middling season as there is much evidence to back that up. First of all, they are the youngest squad in the division with the average age of 24. Furthermore, they have a promising but ultimately inexperienced manager but Mikel Arteta whose previous job was as assistant manager at Man City. However, despite all the skepticisms, Arsenal still managed to beat almost every team in the league with an amazing, mesmerizing playstyle. The youngest squad in the league turned out to be the most dynamic, tactically fluid team. The connection between players like Bukayoko Saka, Gabriel Martinelli and Martin Odegaard, who are all under the age 24, has been the backbone of Arsenal success this season. Not only that but also after a decade of stinginess from the owners, they have finally invested into the squad by bringing in players like Gabriel Jesus, Oleksander Zinchenko and William Saliba. They all have been exceptional signings for Arsenal.
The biggest credit has to go to Mikel Arteta as he is the mastermind behind all of that success. Just a year ago, Arsenal fans had conflicting emotions regarding their head coach.  They have been very disappointed as the team only finished 5th with the team lacking consistency. But now, Arteta has made a 180 and completely changed the atmosphere surrounding the club. After two and a half years in charge of the team, he was finally able to implement his tactics, vision and desire into the team. Moreover,  nobody has displayed a bigger heart, determination to win games than the Arsenal manager. If you haven't seen Arsenal this season, it is highly recommended that you give your time to see how the team plays. 
Aside from Arsenal, there are other teams that have exceeded expectations this season with the likes Brighton, Brentford and Newcastle. All of them are in the top 8 of the table despite being relegation contenders last season. They have defied all odds with Arsenal at the forefront. Not to mention, Manchester United, Manchester City always have the power and capability to regain the top spot at any moment. It's always incredible to see teams punching above their weights in sport and this Premier League season provides all of that excitement and then some. There's no better time to jump back to see the action even if you have already tuned out or you are a newcomer.