This programmer's will help you run your live show this semester. Feel free to skip through the sections based on the help you need. 
If you require immediate support contact SpiritLive Staff on Discord.
Arriving at Allan Slaight
To access the SpiritLive studios, programmers must obtain the key to enter SpiritLive Control Room. To access the key, you will need to go to the Keytracer box which is located at the RCC on the second floor near the bathrooms. The Keytracer box will allow you to access the keys that you need. Once you're at the Keytracer box, follow these steps:
Scan TMU OneCard
Select Take > SpiritLive
Open the cabinet and take out the key surrounded by the red light within 15 seconds
Close cabinet and be sure to not lose the key
Make sure to bring a pair of headphones with you. If you don't have a pair of headphones, you can rent one at the EDC via the EDC Patron Portal. Make sure to also get a 1/4 inch adapter as well. 
Resetting the board ensure that all the setting are corrected. To reset the board, near the bottom right of the control board press and hold on SNAP, then click SNAP 1. The board is now reset!
Each channel strip controls each audio output:
Channel Strip 1: MIC 1

Channel Strip 2: 

MIC 2

Channel Strip 3: 

MIC 3

Channel Strip 4: 

MIC 4

Channel Strip 5: 

AUX

Channel Strip 6: 

COMPUTER AUDIO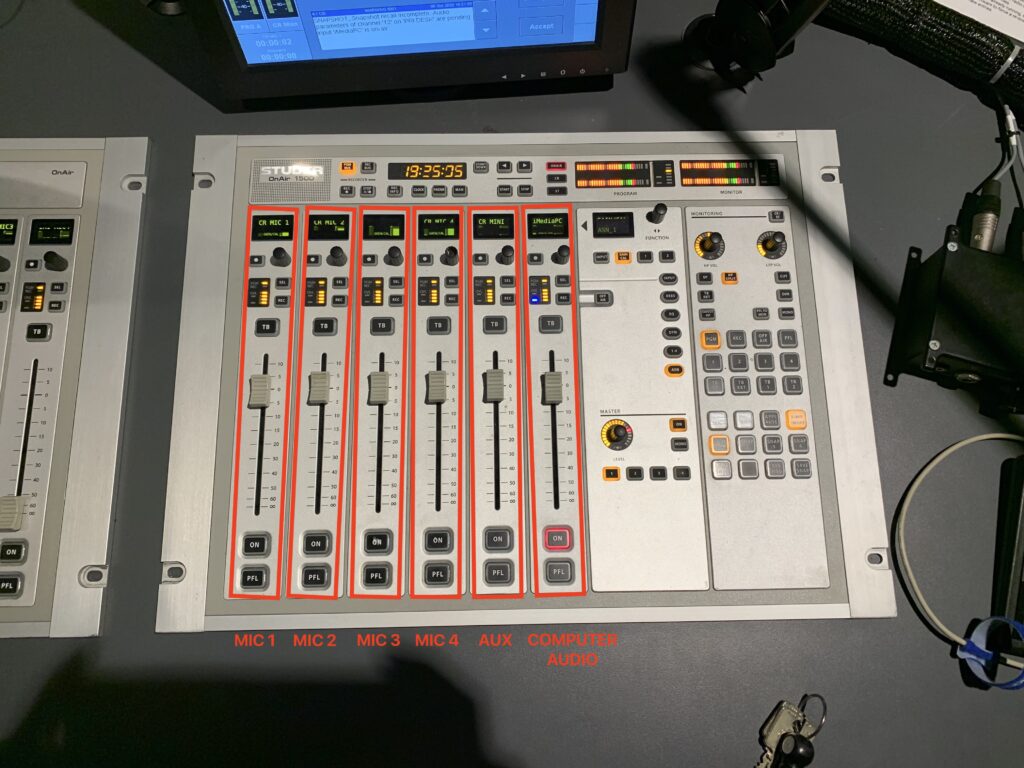 Testing Levels:
Start at 0dB on the Channel Strip
Keep all audio between -10dB and -20dB
Use the PFL button to test levels and audio without broadcasting live
Turning Microphones On :
Click the ON button on the channel strip to broadcast live (TIP: adjust microphone arm before going live)
Make sure that microphone boxes are turned ON (TIP: cough button temporarily mutes microphone)
TB talks to guests in the Interview Room (Talk Back volume: Press SP > Adjust dial)
Option 1: Computer (YouTube, Google Drive, etc.)
Play audio from computer with COMPUTER channel strip on
Option 2: iMediaTouch
To play audio with iMediaTouch, you're going to have to create your own category first. To do so, follow these steps:
Open

iMediaProduction
Create a folder: right-click> ADD
Type in a three-digit code and folder name
Select these options: PCM format, 44100 Hz, 16-bit, stereo (keep in mind only 16-bit files can be uploaded)
IMPORT FILE > select your category > select files > import files
REMEMBER: Adding audio assets must be done BEFORE your show via an Allan Slaight computer. You can book a time via the EDC Portal.
Once you've added your assets to iMediaProduction, you can now play them using iMediaPix:
Open

iMediaPix

Near the bottom of the screen,

scroll to find your category and click on it (if you don't see your category, try restarting the app)

You can play your assets, but remember there are three different modes:

AUTO, PLAY, and PICK
AUTO

: automatically plays through everything

PLAY: clicks on song and automatically plays
PICK: click and select order of tracks 
Option 3: AUX
Plug phone into green AUX cord

Make sure the

CR MINI channel strip is turned on and your phone volume is all the way up
LEFT BOARD – Adjusting camera angles
Select camera number, pan/zoom using stick and switch
RIGHT BOARD – Controls what goes on-air
PREVIEW: previews the frame
PROGRAM

: puts frame to air 

 
Getting caller on the line
Using the telephone near the PC monitor, pick up the receiver, hit 9, then type the phone number you would like to call
Once the call is connected, under the table, there is a button labeled "PHONE LINE", click the button above that label until it turns green
Broadcasting caller to air
Once the light is green, find the "PHONE" channel strip on the control board and adjust levels accordingly
Turning off Music Rotation
The SpiritLive Music Mix (001) will be automatically playing when you open iMediaPix. To stop the music, follow these steps:
Open iMediaPix
Click Auto Off (stops music in this playlist from playing one after the other automatically)
Click Fade Off (fades out the music into no sound)
Click Erase All (erases playlist)
Livestreaming to Streaming Platform (optional)
In addition to live streaming on our website, you can also stream to streaming platforms like Twitch, YouTube, etc.
Open OBS, go to Settings, Mic/Aux should be set to DANTE. To do this, go to OBS > Preferences > Audio > Global Audio Device > Select Dante Virtual Soundcard in the drop-down menu for Mic/Auxiliary Sound
Go to your streaming platform and obtain the stream key
In OBS, go to Settings > Stream > Platform > Enter Stream Key
Start/End stream
Once you're done your show, make sure to turn OFF the microphones and set levels all the way down, except for the computer audio (iMediaPC channel strip)
Reset SpiritLive music rotation. Navigate to SPIRIT 001 category, switch to Auto Mode, then hit Play 
Make sure the space is left tidy (and take headphones!)
Lock the doors!
Return key to Keytracer box