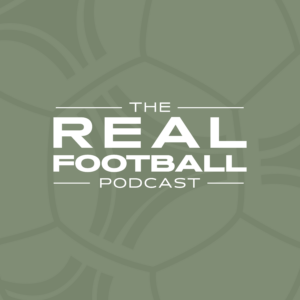 The Real Football Podcast
"The Real Football Podcast" is your go-to source for all things football! Hosted by a group of four Canadian boys with a passion for the beautiful game, this podcast is all about having fun while discussing the latest football news, debating the latest hot topics, and playing trivia games. Each episode, the hosts dive deep into the world of football, discussing everything from the top teams and players to the latest strategies and tactics. They also delve into the world of Canadian soccer, bringing you the latest news and updates on the Canadian national team and domestic leagues. But it's not all serious talk, the podcast is filled with fun and games too. The hosts play trivia games to test their knowledge about the sport, and even have segments where they read some poetry about the sport, this all makes for a unique and entertaining listening experience. Whether you're a die-hard football fan or just looking for a fun and engaging podcast to listen to, "The Real Football Podcast" is the perfect choice. With their expert analysis and entertaining banter, the hosts will keep you entertained and informed on all things football.
The Real Football Podcast
SpiritLive is a 24/7 web-streaming broadcast station, featuring original content produced by students of the RTA School of Media from our studios in the Allan Slaight Radio Institute at Ryerson University.
SpiritLive's goal is to provide RTA students with a platform from which they can create and disseminate media, putting to use the knowledge, skills, and creativity they have honed in the RTA program.
35 Min pods are back, and Arsenal lose crucial title race game against Man City