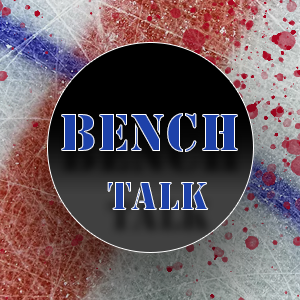 Bench Talk is a fun, lighthearted talk show, about... you guessed it, sports! From hockey to baseball, rugby to quidditch, we talk about it all.
Heading into our third season, our show aims to branch past the traditional big 4 sports and cover a wide range of events, from international and local, starting right here with our Ryerson Rams teams.
We also shine a light on female athletes and sports to bring those conversations to the forefront. With 3 of our 4 fabulous hosts being female, our discussions examine subjects from a female athlete and sport fans point of view.
One of our hosts, Vanessa LaMonaca, is a 3rd year Criminology student — but that doesn't hinder her love for sports. As a Toronto Maple Leafs fanatic, she is our in house expert on everything involving the buds, and brings a fun fresh voice to the show.
Also in her 3rd year, Jessica Pincente is no stranger to sports, as she's currently studying Sport Media. Jess is our very own insider into the world of Ryerson athletics where she works as a Digital Content Assistant, and can talk for days about our very own athletes and offer some interesting behind-the-scenes information.
Mitchell MacDonald began as a guest host on the show, and gradually made his way into a full time seat at the table. Also in his 3rd year as a Sport Media student, his knowledge of sports runs deep. Mitch brings a comedic element to the show and compliments the female voices on the show.
Our fourth and final host Carlen Oliveira is another 3rd year Sport Media student with a love for any and all sports. With a great interest in sports like rugby and paddling, she ties in conversations around those smaller scale sports for a fresh new take into the sporting world.
Our show's goal is to be an entertaining, inclusive conversation between our hosts and our listeners, not to mention in every show we incorporate an interactive game for listeners to play along with!
Tune in to our show weekly, Thursday's at 7:00PM.