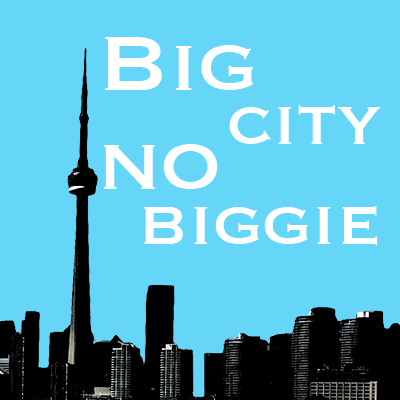 Are you new to university? Are you feeling overwhelmed by the transition from high school? Are you currently in University and just want to listen to some crazy first years? Well then this is the show for you! This brand new radio show is called, Big City No Biggie. The hosts, Taylor Scally and Isabella Richardson-Thomas, are in first year media production at Ryerson University. They are ready to discuss starting universities, residence life, commuting stories, the Toronto lifestyle, and much more! Think you were scared before starting? You're not the only one! Each week will have a different topic discussing something to do with the city or university!  
Get ready for interviews, games, questions and advice all in 50 minutes! Call in to ask questions about their experience or share yours. Listen to the songs of the week, enjoy some free advice, interviews with other students at Ryerson and people to do with our topic of the week. Don't miss out, listen every Wednesday night from 8-9pm starting October 23rd! We hope you join the fun with… Big City No Biggie!
Why are you still reading this? Go listen to our livestream now or a recording!
The second segment will consist of phone calls with the viewers. The viewers will be able to interact and express their opinions, facts or questions over the phone on air. Viewers will be able to discuss the theory with Dan, Ben, and also the guest(s). After the phone calls are over we will have a five minute music break. (25 minutes)
Later on after the break we will have a small end off discussion, concluding final thoughts. Dan and Ben will then proceed to give their final opinion on whether they believe in the theory or not. So Dan will ask Ben "do you believe it or not ben?" and then Ben will ask Dan the same thing as well. Last there will be a host sign off to end the show with some closing music. 
Our show offers a wide variety of different and entertaining topics/theories to talk and discuss with the viewers. Our topic being will make our show very interesting for viewers to toon in. Also our max age group for the show does not range, it is for anyone interested in learning more on conspiracy theories. We know many students our age or our generation as a whole is very interested in our topic as we are as well.