SpiritLive's Evening at The Market
I've lived in Toronto for four months now and I believe I finally got to experience one of the truest gems of the city – the St. Lawrence Market.
Last night I joined those able to grab their hands on a pair of tickets for what the St. Lawrence Market calls, 'Evening at the Market' . I never thought I would say this but turns out there is such a thing as eating too much delicious food. Evening at the Market is an event where the merchants who are there all year round are able to showcase what they are all about. It brings light and shows the true magic of what the people who make up the St. Lawrence market have to offer and I was determined to capture all of it.
I made my way downstair to coat check, checked in, got a drink, and started what seems liked a Tour de France of food – endless array of mini dishes everywhere. I over heard one lady describe it as "a night of endless tapas." I passed vendor after vendor and I just knew I had to hit every spot, trying to beat majority of lines.
First stop was Say it with fruit which featured the owner Aneta Lekas. The display she had was absolutely amazing.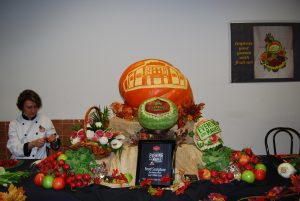 You find yourself staring at it for than the appropriate amount time but it's because you just stand there questioning how long it actually took her to do it. I got to speak to Aneta, she told me it was her first year at the Evening at the Market but looked very excited as she carved flowers out of onions. She handed me one and I told I was too scared to eat it because it looked so beautiful. She responded with a smile and said she treats her food like wedding cakes; creates them to look beautiful but makes sure its inevitably eaten. Her passion illuminated through her smile and that mere sentence.
Next I approached the stand that had pizza – my weakness. The dough was homemade and was light as air. I resisted the temptation for a second piece. After that I went to Harbour Front Organic foods for my second favourite, glass noddles with beef. I ate the full dish it was so delicate but so delicious. One of the most memorable vendors I went to was La Boucherie they displayed several options; sausage and mini burgers and being the meat lover I am it was quite delicious. But that wasn't the most memorable part. Two of the coworkers were grabbing people's attention by dancing and inviting everyone to join them on such a magical night. It was quite refreshing to watch, simple light hearted fun. I found myself smiling even as I walked away.
My list could go on forever but let me list to you some of my personal favourites:
Fresco Cheese with apples
Honey cake and apple tart

Arancini with pulled beef

Peameal bacon sandwich

Various amounts of Ribs

Apple Fritter

Fresh ravioli
Towards the end of my blissful experience I came across the most lovely couple. As if I wasn't already in awe at the whole experience, they truly put this whole event around me into perspective in a few short sentences. As we started chatting they told me how they've been all over the world to some of the most famous markets everywhere from Brisbane to Iceland but nothing compared to the St. Lawrence market.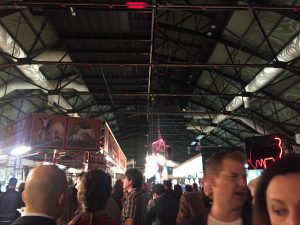 National Geographic ranks it number one in the world that offers the best fresh and local foods. As I continued walking around I let those words sink in and I finally understood why it was number one. Every single vendor shared the same thing – love of food. Every single merchant were extremely excited to share their dishes but their eyes lit up as they watched people thoroughly enjoy it. Their love for their craft was inspiring and  infectious; a massive contributor that will drive you to fall in love with everything the St. Lawrence Market has to offer. This event was a brilliant way to fall in love with the market and even our city that houses it. I leave with a sincere appreciation for the merchants who are there to share their love with our city.
Written by Olivia Morresi, our social media manager.